Food Safety for You
Welcome to Extension Food Safety at Kansas State University. We are a leading institution in the area of food safety in teaching, research, and extension. The goals of this program include educating consumers on safe food handling with food preparation, food preservation, food service and more. Many topics are highlighted on this site to help you learn how to safely handle food from the farm to your table.
Hot Off the Press

---

Many communities have Blessing Boxes, Parking Lot Pantries, or similar efforts to offer easy access to foods and other items for people in need, which helps improve food security. Such boxes also are convenient places for people to donate food and other items. However, because these pantries are normally outside and subject to extreme temperatures in various seasons of the year, not all foods are safe to donate. It is critical that foods available through "Blessing Boxes" are as safe and nutritious as possible to truly be a blessing to those using the boxes.
---
Local Meat Marketing Workshops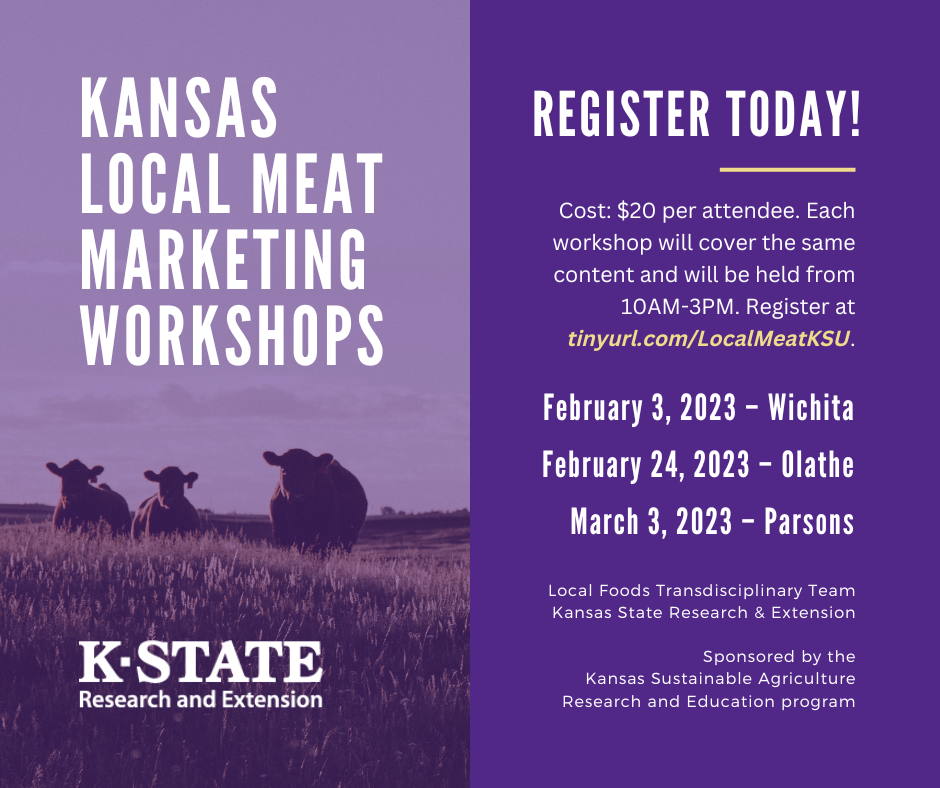 As demand grows for local meat, poultry, and eggs, Kansas producers have an opportunity to expand into new markets and grow their customer base.
The Kansas Local Meat Marketing Workshops will help small scale meat, poultry, and egg producers capitalize on this moment. Attend to learn key marketing strategies, best practices, and regulations from the experts, including fellow producers. KDA's Weights and Measures program will also offer free sales scale certification with paid registration.
Three locations and registration options are:
Cost: $20 per attendee, which includes a local foods lunch. Each workshop will cover the same content and will be held from 10AM-3PM.
The workshops are hosted by the Local Foods Transdisciplinary Team at Kansas State University. It is sponsored by the Kansas Sustainable Agriculture Research and Education (SARE) program, KSU Global Food Systems Seed Grant, Walton's, Frontier Farm Credit, Neosho County Farm Bureau, Sedgwick County Farm Bureau, Johnson County Farm Bureau, Kansas Farmers Union, Allen County Farm Bureau, Kansas Meat Processors Association, and the Kansas Rural Center.
For questions about these workshops or to become a sponsor, please contact Erica Blair at elblair@ksu.edu.
---
In cooperation with the Kansas Restaurant & Hospitality Association, we offer ServSafe training classes across Kansas. For the complete list of classes for managers and food handlers, see our ServSafe website with lists of dates and locations. Check back often as more classes may be added throughout the year.
---
Regulations and food safety best practices for vendors and farmers market managers and also selling food direct to consumers. This includes information from the Kansas Department of Agriculture and K-State Research and Extension.